PartydoosMedia and Streamotion –
We at PartydoosMedia think it is extremely important that our logo, our website, etc. always keep up with the new trends. Therefore we are proud to announce that after more than 4 months of work, the biggest update in the existence of PartydoosMedia ever is coming.
This update offers many new possibilities, new features on the website, improved user privacy, more ways to contact us, a brand new logo for PartydoosMedia, a brand new site for PartydoosMedia, a private domain for Streamotion and much more.
Below is a changelog with what has changed.
Changelog
Our visual identity
PartydoosMedia is a digital visual creative agency, therefore design is extremely important. We felt that our old PartydoosMedia logo no longer matched our standards and was, in our opinion, old-fashioned compared to current and new trends and what we consider to fall under a professional logo.
For the logo, we chose to create something similar to the old logo, but still something completely new. For example, the colours have changed from blue and black to a logo with a colour gradient. Also, our main blue colour has become slightly lighter. This colour radiates safety, responsibility, honesty and confidence. This is important for a company like PartydoosMedia.
To read our new and updated Branding Guidelines, please go here: https://www.partydoosmedia.com/branding
Website design – PartydoosMedia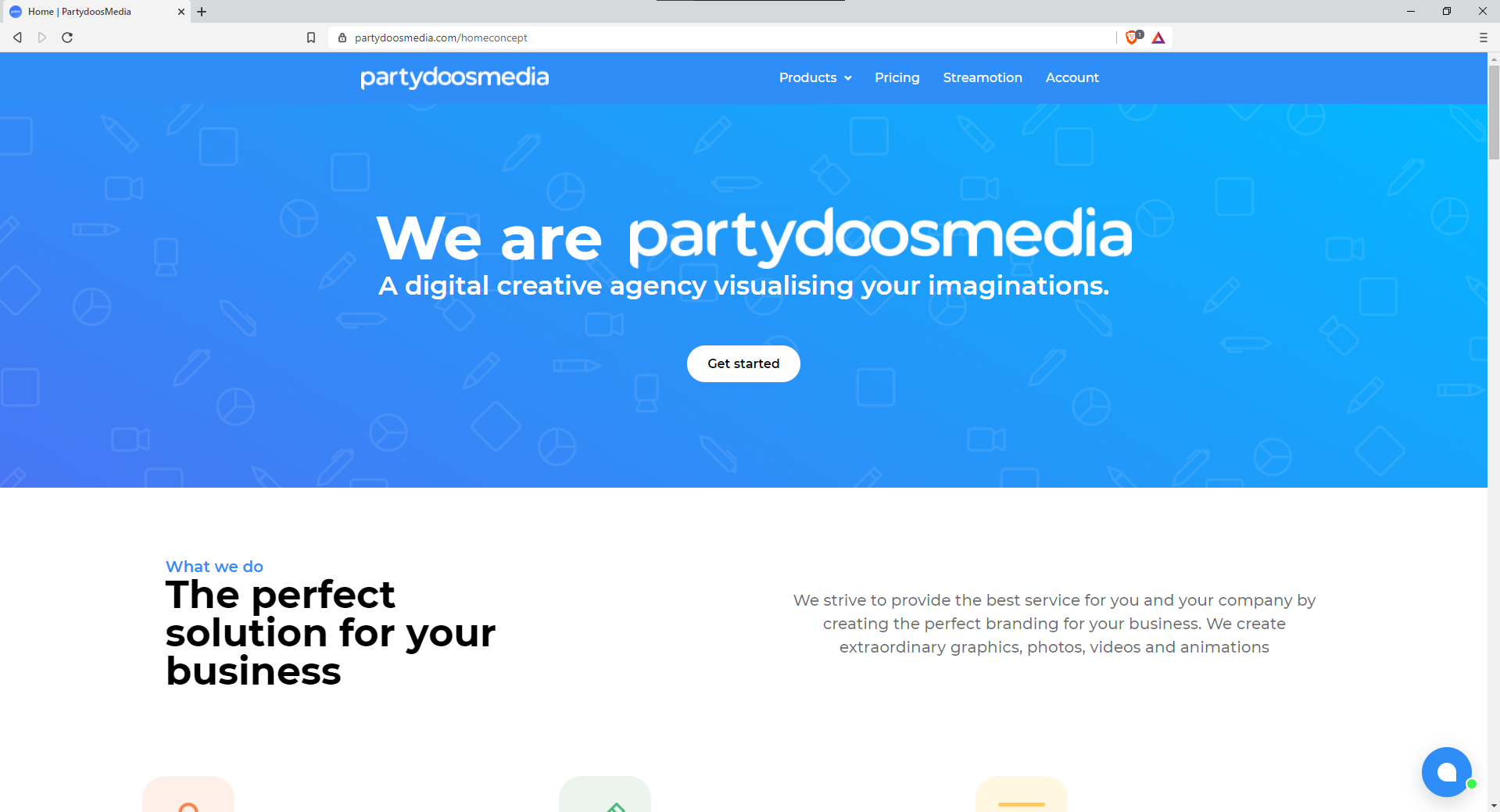 Over the past few months, our team has been extremely busy creating a new website. A reliable website for all that easily offers the information you are looking for.
We have been working day and night on this new website and are proud to unveil it! The website offers many new features and looks more professional. For example, the home page and the other pages are now more friendly for new users and unregistered users.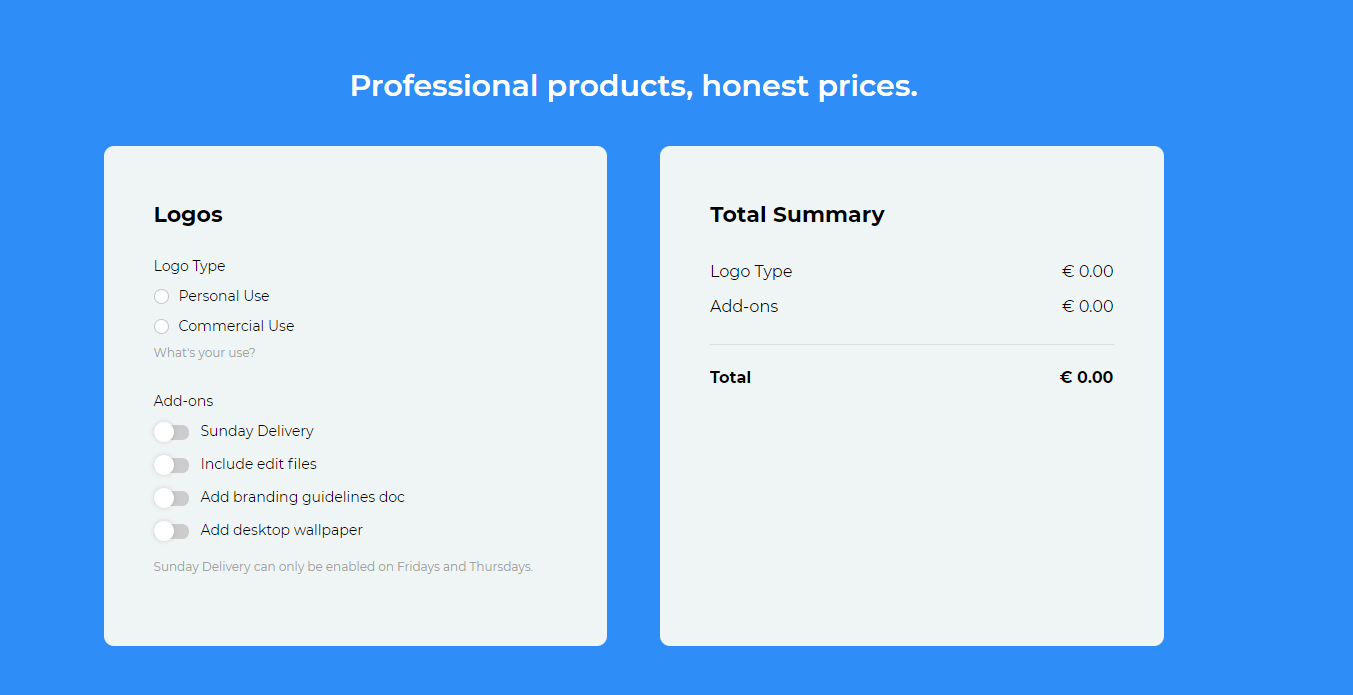 We have moved the prices of products to the specific product pages and made them much more personal. We have made sure that you only pay for the things you want. This has also allowed us to lower prices slightly, which we are pleased about.
The new product pages also offer more information and look nicer to the human eye.

We have also changed the design of the footer to offer more and more useful information. This footer changes daily, for example the 'call' button is only visible when we are reachable by phone at that moment. Call opening hours can be seen in our Imprint.
Also, the footer now links to some of our social media and contact options.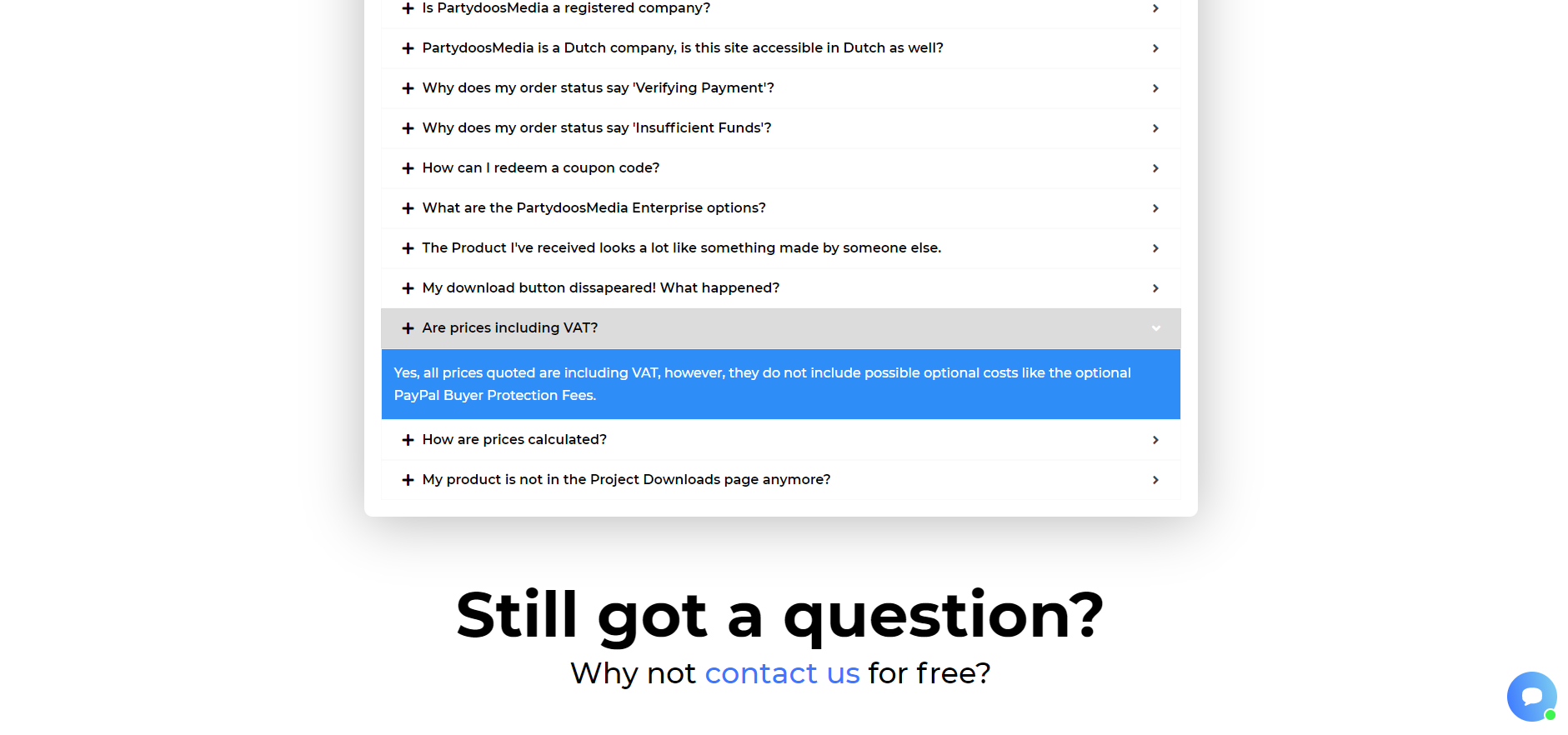 We have made sure that the new website is much clearer at first glance. For example, very important text is larger and thicker in order to stand out. Also, the header on some pages now gives a summary of what can be found on that page.
Partner System – PartydoosMedia
Partners are extremely important to PartydoosMedia. Not only for our survival but also for the functioning of the company. Also this offers the possibility to offer good deals to our on/of their customers like exclusive discounts!
Because our partners are so important we have given them a special place on our website. At https://www.partydoosmedia.com/partners you can see a list of our partners. These partners are divided into 2 categories, Turbo Partners and Standard Partners.
We have created a brand new Partner Dashboard for our partners. This partner dashboard offers them the option to easily change subscriptions, request products, adjust their settings, download their products, etc. without the hassle to contact us for each single change separately. This reduces the time it takes to make changes to the way Partners show up on our website.
PartydoosMedia now also offers cheaper subscriptions. This is for companies or individuals who need PartydoosMedia's products more often. For a monthly fee they get exactly what they want. We make sure that these costs are always lower than if customers would order the products separately.
Currently, we are beta-testing subscriptions and as soon as this proves to be successful among our partners, we will make this publicly available. If you are interested in taking out a subscription, please contact us.
The page for subscriptions can be found here: https://www.partydoosmedia.com/partners/enterprise/
Website Design – Streamotion
We always felt that the Streamotion website offered little information about its products. Today, this has changed. The Streamotion site is more exclusive than ever and offers more information than ever. The site also has a more 'gamer' feel to it.
The catalogue of premade packs from the Streamotion site is now on a separate page. Here you can find information about each pack, you can select these packs and you can order them and see what is in them. We have also slightly updated the packs to be more beautiful and trendier.
All Streamotion products now have separate product pages. At the moment, these are custom packs, premade packs and the add-ons. Ordering Streamotion products is also easier than ever because there is first a short question form which asks for exactly what you're looking for.
Streamotion now also offers its own account pages synchronised with the main PartydoosMedia website. This page offers more Streamotion specialised content like a shortcut to Streamotion 101, our new tutorial series explaining in clear steps how to set up your products.
Payment Portal
Our payment portal is now even more user-friendly, e.g. a 'Learn More' button has been added to read more about the Payment Portal.
A new page at https://www.partydoosmedia.com/payment-portal/about/ has been added. This page provides information about the Payment Portal, its security and operation. This page gives more confidence in our secure payment system.
We have been able to add many new payment options through the addition of Stripe to the Payment Portal.
Discord server
We have had a lot of questions about whether PartydoosMedia will ever make a Discord server. Our answer was always that we would look at the possibilities. Today we are happy to announce that our Discord server is now publicly available!
The server offers exclusive discount codes! If you join, you will also be informed about the latest updates, support is even faster and you can talk to your fellow members. Customers get an exclusive role in the Discord server!
The Discord server can be joined by going to partydoosmedia.com/discord
Other changes
Privacy
PartydoosMedia considers the privacy of our customers and website users extremely important. The ways in which Google handles the data of our website users does not fall within our understanding of privacy. Therefore, we immediately remove Google Analytics from our website and we will use other such services that do o protect the privacy of our users.
Because of this, we've moved away from Google Analytics and switched to Panelbear.
Read more about how we integrated Panelbear in our Privacy Policy.
More support options
We now also offer customer service via WhatsApp, Telegram and phone!
Misc changes
Changed Live Chat provider to Chatwoot
Added 'Report partner' page
Added and removed questions from our FAQ page
Updated Social Media handles on Social Media page
Updated Imprint to comply with Dutch regulations
Removed herobrine
Updated our Terms and Conditions, Fair Use Policy and Privacy Policy
Updated our branding on all social media platforms
Added 'cancel order' option to Payment Portal